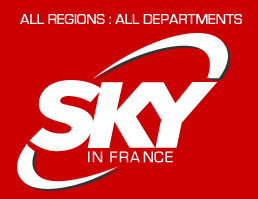 SKY TV INSTALLATIONS THROUGHOUT FRANCE
WATCH UK TELEVISION & LISTEN TO UK RADIO

TNT Information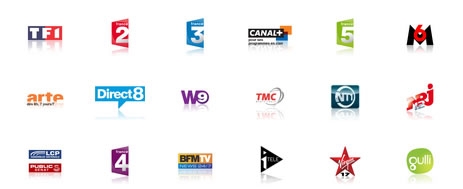 There are two ways to receive digital French television (TNT) in France depending on your location, via roof top aerial or via satellite. Most new televisions in France have a TNT aerial decoder built in, when buying a new TV look for the TNT sign
If you cannot receive TNT via an aerial or you think because of the location of your property you could have a problem with the reception you can still receive TNT via a satellite dish.
TNT via a satellite dish is transmitted from Astra 1 (UK TV & Sky TV are transmitted from Astra 2). The 18 free channels include the main national channels, TF1, France2, France3, Arté and M6. You can choose your own local France3 region when you install the receiver.
Compatibility

A British bought television will work in France as long as it is connected to a set top box (either terrestrial or satellite) of some kind via a Scart lead. So, if it is connected to a French digital set top box (Canal Satellite, TPS or TNT) or British set top box (FTA receiver or Sky digibox) via a Scart lead, then the British television will show colour pictures without any problems. If the set top box happens to be analogue and receiving the French national channels on Atlantic Bird satellite, then the pictures will be watchable but in black and white. This is because the French analogue FTA transmissions use the SECAM colour standard which is not compatible with Britain's PAL colour TV standard. If The British television set is multi-standard, then there should be no problems with different colour standards used in different countries.
A British television set will usually not receive the French terrestrial channels via a rooftop aerial unless that TV set has been specifically purchased as a multi-standard one, ie Pal/Secam.
TV licence
The law states that it is the responsibility of the individual to declare to the Trésor Public or the tax authorities that they have a TV. It does not matter whether the 'set' is capable of receiving any channels, a « TV is a TV ! ». The current fee is €116 and is sent with the annual Taxe d'Habitation form. As usual the rules are complicated but simply, if you are registered with the Tax authorities, are over 60, do not pay income tax and are on the minimum income you could be exempt. Check your situation with your tax office. Failure to declare your set could mean a fine plus payment of the previous three years' fees.