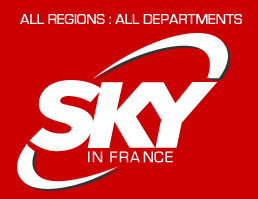 SKY TV INSTALLATIONS THROUGHOUT FRANCE
WATCH UK TELEVISION & LISTEN TO UK RADIO

SKY Box Frequently Asked Questions
This is the wrong card for the set top box.
Each Sky card has to be 'paired' to an individual digibox. When an active card is taken from one digibox and inserted in another they have to be 'paired' to allow access to all channels. Please contact us and we will have this done for you. Do not contact Sky!
Call to upgrade your subscription( Clients paying a year up front)
Although you have paid a year up front we still have to send a contract to Sky. It is not uncommon for Sky to lose the contract and therefore the viewing will be blocked. Please contact us and we will endeavour to rectify the situation ASAP. If you have been viewing for more than 6 weeks it is likely that Sky have received the contract however due to clerical errors between Sky and Banks/Credit card companies it is still possible to be switched off so don't panic, don't contact Sky, contact us ASAP.
Call To Upgrade Your Subscription(clients paying monthly)
The contract you signed has to be sent to Sky and sometimes there can be a delay or Sky can lose your contract. In this case they will block your viewing and you will get this message. Don't panic. Don't contact Sky. Contact us ASAP. Once Sky have received and processed your contract and there is a problem with your payment your viewing will be blocked and you will get this message. Please check your Bank/Credit Card account and then contact us.
Sky + System Fault
The sky+ system fault is something that can be easily fixed. To do this simply do the following: Press 'services' on your Sky plus remote, then select option 4. Next press 0, 1, select - you should now see the engineer's menu. Choose option 8, 'Full System Reset'. The box will now take a few minutes to reset itself. You will loose all of your recorded programs, however this should help to fix your problem.
No Satellite Signal Being Received
This could be any one of a number of things however there are only a few things you can check yourself. If the problem is at the dish end or a fault in the cable you are going to need an engineers visit. If the problem is internal then you could check it yourself. First of all check that the cable coming from the dish is connected to the digibox. There is a connector at the end of the cable called an 'F' connector. Make sure the cable has not come loose from the connector or the connector has come loose from the Digibox. Unplug the Digibox from the mains electrical supply, leave it for 2 minutes and then connect it back up. Check the LNB settings. Press 'services', then '4' then 0 1 select, this let's you into the installers menu. The settins should be as follows, Low Band Frequency 9.75, High Band Frequency 10.60, LNB Power Supply On, 22Khz Command On. If these are not the settings you have you could press the red button and it should default to these settings. Highlight Save New Settings and press select.
Please Insert Card
Please ensure card is inserted fully with the gold chip facing downwards in the correct slot marked 'sky viewing card'. If message still appears, contact us.
Card Not Authorised. Please Call Your Broadcaster For Assistance
DO NOT CONTACT SKY DIRECT! Contact us asap.
Searching For Listings
Unplug the Digibox from the mains electrical supply, leave it for 2 minutes and then connect it back up. If message still appears, contact us.
There Is A Problem With Your Viewing Card
Take card out of box & wipe clean with a dry cloth. Unplug the Digibox from the mains electrical supply, leave it for 2 minutes and then connect it back up. If message still appears, contact us as a new viewing card may have to be issued. Do not contact sky direct.
What is Sky's digital satellite system?
Sky's digital satellite system is the equipment that allows customers to receive Sky digital programming. Every Sky digital satellite system includes various components: a satellite dish, an LNB, a digital satellite receiver (called a Sky box) and a remote control. Every Sky box gives you access to a customisable on-screen program guide (EPG), and more than 100 quality entertainment, sport, movie, documentary, music, Kids and news channels, as well as 160 non subscription TV and radio channels on digital satellite.
How can I find out what programming is coming up?
You can check programmes up to 1 week in advance by pressing TV Guide and selecting the appropriate genre from the list.
Can weather interfere with a digital satellite signal?
Yes. Rain and snow can reduce the signal by up to 50%. In theory you should have a dish capable of receiving signals in bad weather but if you live in an area where you need a big dish just to get signals in good weather and the weather is good most of the time then you have to consider if it is worth having a bigger dish.
How much does a Sky digital subscription cost?
Packages range from £15 - £57.00 a month (currently and subject to change - please contact us for latest pricing). You can also add stand-alone Premium Channels to your basic package and subscribers can use Sky Box Office to order extra movies, sport and events. These are priced individually and added to your monthly bill.

How long is the minimum contract for?
The minimum subscription period is 12 months.
Why is my first payment more than my subscription?
Your first payment includes the time from when the card is first activated until the time Sky receives and processes your contract plus the next month in advance
How do I access Sky text?
If you are watching a channel that carries Sky text, you can view and use the service by pressing the TEXT button on your Sky remote control. Channels that carry Sky Text include: Sky One, Sky News, Sky Sports 1, 2, & 3 Sky Sports News.
If I press the text button on my TV remote will I see Sky Text?
If you are tuned to a Sky channel you may see the older teletext style version of Sky Text. You can only see the new version of Sky Text by using your sky remote control.
What is my PIN and how do I use it?
Your PIN is initially set as the last four digits after your viewing card number. It can be used to restrict the type of programmes that can be viewed and to set a spending limit to control box office purchasing.
How do I change my PIN number?
Press Services on your Sky remote control. Select option 3 for Parental Control. You will then be asked for the current PIN. If you do not know the PIN please call us for assistance. DO NOT CALL SKY. After the current PIN, select option 3 for Change PIN. Enter the 4 digit number PIN you wish to use and then confirm it once more when asked. The screen will then confirm that the new PIN is now in use. From the Parental Control Menu you can also set parental restrictions and spending limits.
Why should I leave my digibox on standby and not unplugged?
From time to time, updates are sent to your digibox from the satellite. The update will not be received if the digibox is unplugged.
What other channels are available to subscribe to?
Sky currently has over 96 different package options available. To find out more please see Subscription Packages
How do I upgrade my subscription to receive other channels?
Please call us for further information. DO NOT CALL SKY.
If I choose to subscribe to a premium channel, how long does the subscription last?
The minimum period for adding on a channel is 30 days. The minimum period for subscribing to Sky digital is 12 months.
What bonus channels do I get with the premium channels?
This depends on the channel you choose to add on. To find out more please call us. DO NOT CALL SKY.
Can I change my subscription package after I have ordered?
You can change your subscription either before your viewing commences or after the first month in accordance with the terms of your subscription contract.
The Picture on my box office movie is distorting.
If you are trying to play back a recording of the movie or are watching it through your video, then the copyright protection called, "Macrovision" could be causing a distortion of the picture. Copy protection is required by the studios that Supply the Movies, and is present on only some of the Sky Box Office programmes.
Problems with DigiBox?
Sometimes the digibox can get a build up of static, if the message on the screen reads searching for listings or its just a blank blue screen maybe its all breaking up, try resetting your box by unplugging it from the mains leave it for 10mins then plug back in, this should re-set and clear any static from your digibox. If you are not receiving any sound or picture please check the scart leads are all in correctly.
Do the digiboxes come with a guarantee?
Yes. All Sky digiboxes and FTA receivers carry a 12 month guarantee. Digibox problems are very rare; however if you have any problem with your receiver in the first 12 months it will be replaced free of charge.
I have an on screen message on all channels - 'No Satellite Signal is Being Received'
Press Services on the Sky Remote control. Select Set up (Option 4). Press Signal Test (Option 6). Check signal strength and signal quality, there should be gray bars about half way. If no signal on both strength and quality then there is no signal being received by the digibox. Check the connection from the dish to the digibox at the back (screw on connector), ensure that the cable has not been pulled out. If the cable is OK then call us for further assistance. DO NOT CONTACT SKY.
Can I receive any other channels on a Sky Digital system apart from those on the EPG (Electronic Programme Guide)
Yes. There are many other channels that the Sky Digital system can pick up, including CNE (Chinese), several Asian, Arabic, one French and several others.