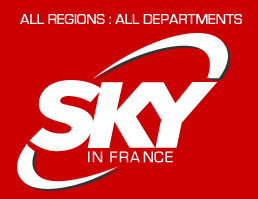 SKY TV INSTALLATIONS THROUGHOUT FRANCE
WATCH UK TELEVISION & LISTEN TO UK RADIO

Terms and Conditions
Returns Policy.
PLEASE KEEP THE MANUFACTURING PACKAGING
All returns. Do not leave a card in the receiver. We do not accept any responsibility if they go missing. A 10% restocking charge will be charged on all unwanted items.
Faults
All returns must be booked in by either telephone or e-mail where we have replied and agreed to a request for service or return. 95% of faults can be sorted out over the telephone or by e-mail without ever having to return a product. Do not return a product without making contact, talking to an engineer, and (if fault is more serious) booking a return in advance. Do not send goods back without a covering letter or the goods will not be examined. A covering letter detailing fault, the date of purchase, return address and contact telephone number is required. Failure to follow this procedure could result in the goods going into storage until the customer contacts us. Please note that if there is no fault found a handling fee (10%) and postage will be charged.
If a product is faulty on arrival it will be replaced under the following conditions,
When returning goods to us, a product must be packaged so that the manufacturers' packing is not damaged. e.g. a receiver should be packaged either in an outer box or similar protective packaging.
The product, all accessories and the manufacturers packaging must be returned complete and in new condition otherwise, the product will not be replaced, it will be repaired. A damaged product or packaging is considered to be then owned by the customer and is not eligible for replacement. It will only be repaired and returned. The request for a return of this type must be made within 7 days of receiving the goods. Refund will not include the postage cost of returning items or any other carriage charges. The decision to give a refund is at our discretion. Items returned must be in a re-saleable condition. Please Note. Special orders cannot be returned for a refund..
Proof of purchase is required.
Please register and insure as we cannot be held liable for items lost or damaged in the post.
Delivery
All of our deliveries are sent through La Poste with small packages via standard recorded delivery, and the bigger items via the Colissimo system. Using 'La Poste' means your delivery should be with you within 2 business days of ordering. All items have to be signed for. Shipment will be confirmed by e mail which will include the relevant tracking reference number.
Next day delivery is available please contact us for more details
New Sky Digiboxes
All New Sky Digiboxes have a one year guarantee, from date of invoice, Humax Freesat+ boxes have a two year guarantee.
Prices
All prices are in Euros and are subject to TVA where applicable. Prices are subject to change with or without notice.
Payment
Sky In France/ Sky In Europe accepts payments via Paypal , all transactions are taken in Euro's.
Security
Security is very important to us. We take every reasonable precaution to protect your personal information.
Acts of God
All equipment whether new or second hand is not covered by manufactures or Sky In France warranty.
Please note that if you do have any problems with Sky, please do not contact Sky from outside of the UK please contact Sky In France
Sky In France (Sky In Europe SARL) can not be held responsible for any satellite footprint changes.