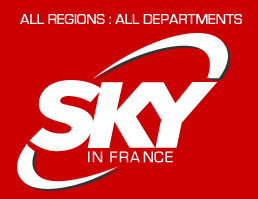 SKY TV INSTALLATIONS THROUGHOUT FRANCE
WATCH UK TELEVISION & LISTEN TO UK RADIO

Information on Freesat Installations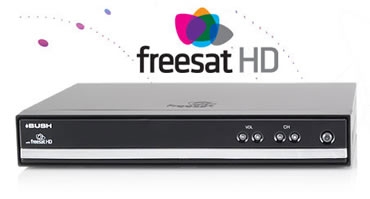 Freesat is a free-to-air digital satellite television platform developed by the BBC and ITV plc. The service launched on May 2008 and offers an alternative to Sky Digital , with a selection of channels available without subscription.
The service will make use of the additional capacity available on satellite to offer High Definition (HD) channels.
Freesat was set up to ensure that all households have the opportunity to access digital TV and Radio, subscription-free.
The Public Service platform will include high definition programmes - without having to pay a monthly subscription.
Freesat was formed in May 2007 as a joint venture between the BBC and ITV, and includes many of the same people behind Freeview.
Freesat is funded 50/50 by ITV and the BBC, and is run on a not-for-profit basis.
Why Freesat?

BBC and ITV, the two main public service broadcasters in the UK, have made their services available digitally through two platforms, digital terrestrial (Freeview) and digital satellite (Sky Digital).
On digital terrestrial, the channels have always been available free of charge with appropriate equipment.
However, Freeview is currently available to only 73% of the population. After digital switch-off, this will increase to 98.5% for the public service channels and 90% for the full Freeview service. In order to provide fuller coverage and a larger number of channels, a digital satellite alternative is necessary.

The digital satellite platform has largely been controlled by the commercial operator BSkyB. Initially, both the BBC's and ITV's channels were encrypted since the original satellites used for Sky Digital broadcast to most of Europe though the broadcasters' rights for premium content such as films and sports typically covered the UK only.

The use of encryption meant that any viewer wishing to view the channels had to purchase equipment from Sky and pay for a free-to-view viewing card in order to decrypt the channels. Similarly, in order to use the Videoguard encryption, the broadcasters needed to pay a fee to NDS.

Free-To-Air

In May 2003, the BBC moved all of their channels onto the Astra 2D satellite which focuses more tightly on the UK. This allowed the BBC to stop encrypting their broadcasts while continuing to meet their licence and copyright obligations.
In September 2005, the BBC and ITV announced that they would collaborate on a free-to-air satellite service to complement Freeview. Two months later, ITV began broadcasting in the clear.

The free-to-air channels could then be received using any standard digital satellite (DVB-S) receiver. However, the Freesat project aims to provide a more managed service with an Electronic Programme Guide (EPG), interactive features and approved receivers, similar to the Freeview service.
The initial plan was to release the service in early 2006. This was postponed to Autumn 2007 pending approval from the BBC Trust. This approval was received in April 2007.


What equipment will you require to watch Freesat?

There are two types of FreeSat receiver currently announced — Standard Definition (SD) -only receivers and High Definition (HD) receivers. These receivers will be sold through official retailers such as Argos, Comet, Currys and John Lewis.
You will also require a satellite dish positioned to receive the Astra 2/Eurobird1 group of satellites copositioned at 28° East.
For users who do not currently have a satellite dish, FreeSat offers an installation service which is made available through retailers and which is advertised in a leaflet included with Freesat receivers. If you currently have a Sky dish, this can also be used for Freesat, you could have both services from the same dish by using a Twin dual output LNB.

Freesat HD

Freesat is likely to be the sole free platform for high definition content for the next few years. Currently, no high definition channels are available via digital terrestrial. Ofcom have announced that, after analogue switch-off, they plan to reorganise the Freeview channels ans multiplexes, in order to allow several high definition channels to be added without making available more capacity. However, these plans have drawn widespread criticism for not providing additional capacity, which may lead to unsatisfactory picture quality for both SD and HD channels.

HD receivers are available from Goodmans, Bush, Grundig and Humax now. Humax will launch a twin-tuner HD PVR 'in the next couple of months'.

BBC HD

BBC HD is already broadcasting a limited service, with a prime-time schedule that will expand over the next few years into the afternoon. The BBC's hi-def services are broadcast in 1080i with Dolby Digital 5.1 surround audio.

ITV HD

TV HD is a red-button service available exclusively on Freesat, certain sporting events, movies and dramas -including the FA Cup and Champions League plus some drama are available in HD.
When you are watching ITV1 and an ITV HD logo pop up at the top of your screen, just press the red button on your remote control to watch it in High Definition.
Channel 4 HD

Channel 4 HD has no plans to join Freesat at this stage, due to contractrual obligation with Sky. Expect this channel sometime in 2009.

Technical Information

Freesat broadcasts from the same fleet of satellites as Sky Digital, Astra 2A, Astra 2B, Asytra 2C, Astra 2D and Eurobird 1. Channels are broadcast using DVB-S. The Freesat programme guide will be broadcast from the Eurobird 1 satellite situated at 28.5° east.
All the channels broadcasting to date are broadcasting using DVB-S. Standard definition channels are broadcast using MPEG-2 for compatibility with Sky Digital receivers.
BBC HD is broadcast using MPEG-4 since it does not need to be compatible with Sky's non-HD boxes. Currently, BBC HD uses DVB-S since the channel shares a transponder with several Standard Definition channels. It is unknown whether or not this will switch to the newer DVB-S2 used for Sky HD when more HD channels are made available.

Freesat Interactive

Freesat uses a version of the MHEG interactive software seen on Freeview, providing digital text, subtitles, audio description and extra video streams. There are special 'Freesat extensions' to MHEG, which allow richer services that can take advantage of the extra bandwidth on satellite, and the greater processing power of today's receivers.

Every Freesat box has an Ethernet port which can be connected to your home broadband connection, to allow a high capacity return path for interactive services. This is likely to include versions of the BBC iPlayer and the forthcoming Kangaroo service, so you can access on-demand TV from your Freesat receiver.