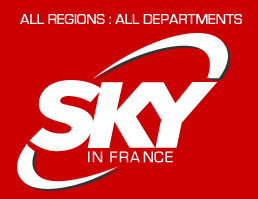 SKY TV INSTALLATIONS THROUGHOUT FRANCE
WATCH UK TELEVISION & LISTEN TO UK RADIO

Sky in France Company Info
Sky In France was established in 2004 to provide English Television in the Occitanie region. The company began installing locally and progressed to supplying a network of dealers all over France, providing services to Hotels, Bars, Schools and of course the general public.
As time went by we recognised a need for English Television further afield and extended our services to include several European countries. This year "Sky In Europe" was established to maintain our European dealers & commercial installations within France.
For commercial SKY installations (Hotels, Bars, Restaurants, Clubs etc) or SKY installations outside of France please contact SKY in Europe via SKY in Europe
We are a growing company and are always keen to expand the services we offer and the areas in which we offer them.
We would be interested to receive enquiries for our free franchise offers depending upon experience / qualifications and location.
Please contact us for further information.