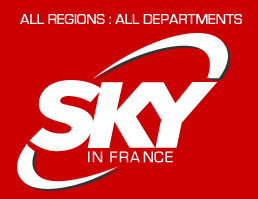 SKY TV INSTALLATIONS THROUGHOUT FRANCE
WATCH UK TELEVISION & LISTEN TO UK RADIO

Subscriptions News and Events Mix

See it, know it - with breaking world news, sport and business coverage on over 10 channels. From who said what to who scored when.Plus Over 200 TV and Radio channels are available on digital satellite even if you dont subscribe to Sky Digital.
At The Races
At The Races provides exclusive daily coverage of live UK and Irish horse racing free with your basic Sky subscription. It's the only place to see all weather action through the winter, every race from the Royal Ascot and Diamond Weekend meetings, all the great Irish classic and festival meetings at Punchestown, Leopardstown, Galway and the Curragh plus US racing every night. Join a renowned presentation team led by John McCririck, Mike Cattermole, Zoey Bird, Jason Weaver and Bob Cooper for a wealth of expert views, analysis and tips plus all the latest betting news.
Bloomberg
Being the leading business and financial news channel, you'll receive the very latest market news – first! As well as live, 24-hour global coverage, Bloomberg gives you analysis, expert opinions and in-depth interviews with the world's movers and shakers. You'll have live coverage from the world's leading exchanges, and the latest information from over 85 news bureaux worldwide, so you'll always be well informed.
British Eurosport
Experience the best of world sport, with a distinctly British perspective, concentrating on our achievements at home and abroad.
British Eurosport 2
Get results, interviews, highlights and information from a wide range of sports, plus news on local, European and international events – as they happen, 24 hours a day.
CNBC
Europe's leading financial and business broadcaster delivers the latest market information; unrivalled coverage of breaking business news; in-depth analysis; and interviews with the business world's leading figures. Covering the trading day right across the world, CNBC Europe's fast-paced business coverage makes essential viewing for the financial community, business leaders and active private investors.
ESPN Classic
The UK's first TV channel dedicated to bringing the best of Classic Sport to the Great British public. From the stars of yesterday to the late great heroes of yesteryear - we've got the lot. With everything from the best football and rugby matches the world has ever seen to classic Superstars and prison basketball.
Extreme Sports
Extreme sports action, 24 Hours a day. Radical sports and lifestyle content including snowboarding, surfing, mountain-biking, in-line skating, BMX and much more. Sports for the cool by the cool!
FOX News
Innovative presentation from FOX News Channel has become the new standard for TV news in America. If you want to move with the times, make it your own first choice for news. With distinctive programming and live news updates 24 hours a day, FOX News Channel brings you the events, the issues and the people who change our world, in a compellingly different way.
Motors TV
NDTV 24x7
STAR News
STAR News is the UK's only 24-hour news channel from South Asia. Be the first to know the news from India.
Sky News
With 24-hour, award-winning coverage, you can trust Sky News to always keep you well informed. Sky News is valued for both its objectivity and authority as well as the speed and flexibility of its live broadcasts. Sky News Active offers eight video multiscreens accessible via the red button, with rolling headlines, showbiz and business news plus deeper and extended coverage of big events.
Sky Sports News
Sky Sports News keeps you up-to-date with the latest sporting information.
Free View Channels
Over 200 TV and Radio channels are available on digital satellite even if you don't subscribe to Sky Digital. You may need a viewing card to access these channels (this currently applies to Channel 4, Five, Five Life, Five US and Sky Three). These channels are not offered by Sky and their availability is outside of Sky's control. Sky will not be liable if they or any of their content is withdrawn or changed.