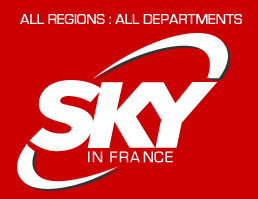 SKY TV INSTALLATIONS THROUGHOUT FRANCE
WATCH UK TELEVISION & LISTEN TO UK RADIO

Freesat Boxes Humax HDR-1000S/1TB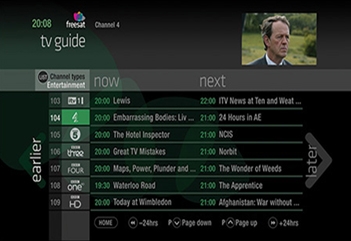 NEW Freesat DTR with Free time (UK VPN required) Roll backwards EPG Freesat HD and SD Channel Recording Record 2 channels at the same time - or watch one while recording another Under 1W power consumption while in standby 1TB Hard Drive - HDMI Interface for perfect transmissions of picture and sound Dolby Digital audio output (S/PDIF) HDCP Compliant Upscaling for Standard Definition channels Full colour high resolution electronic programme guide Requires a working dual LNB satellite dish
G2 VERSION NOW WITH FREE TIME
The second generation of freesat now comes with a smart new TV guide called 'free time'. Not only is this faster than ever but it also allows you to move backwards through programmes that you might have missed. Far easier than using a separate catch-up TV application, free time integrates past TV programmes with the programme guide for truly smart TV. In addition to this, 'free time' also offers a Now & Next facility for easy viewing of current and soon to-air programmes plus a Showcase feature for suggestions. All catch-up TV services are now included with freesat free time now, including BBC iPlayer, ITV Player, 4oD and, now, Demand 5, a UK VPN is required for Freetime. please contact us for more information
ALL THE BENEFITS OF FREESAT+
Freesat+ is a subscription free UK digital TV service that you can connect to an existing satellite dish - with no monthly payments! Just like other free-to-air services, you'll receive HD TV channels and services that make the most of HD Ready TVs. With up to 5 times the picture detail, HD TV images offer stunning realism, whatever the genre. The built-in HDD system also lets you pause and rewind live TV! It doesn't stop there, either. Twin TV tuners mean that you can record 2 channels at the same time or watch one program whilst recording another. (Dual LNB satellite feed required, ask about installation).
MASSIVE 1TB HARD DRIVE FOR UP TO 500 HOURS OF STORED TV
With a massive 1TB hard drive built-in, the HDR-1000S can store 500 hours of standard TV recordings or 250 hours of HD TV, making it ideal for storing and watching your favourite shows again - even if it's too late for catch-up TV.
USB AND OPTIONAL WI-FI
With the USB port you can connect a media player or external hard drive and watch stored video on your TV. By using a separately available dongle you can also connect to your network hub via wi-fi (an Ethernet connection is standard).
CONNECT UP WITH A FULL HOME CINEMA SYSTEM
The Humax HDR-1000S comes with a wide range of connections, making it ideal to connect up to a full home cinema system. In addition to the HDMI, SCART and Ethernet connections, the box comes with both optical and RCA phono audio outputs. This lets you connect up pretty much any hi-fi or home cinema system for high definition sound to match the picture.