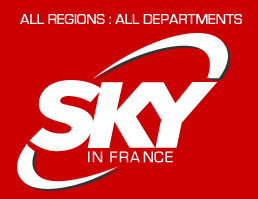 SKY TV INSTALLATIONS THROUGHOUT FRANCE
WATCH UK TELEVISION & LISTEN TO UK RADIO

Freesat Boxes Freesat 4K non recordable box
Freesat 4K Digital TV Receiver is a compact and stylish product that is a fantastic alternative to paid for satellite viewing. Access over 150 channels of satellite broadcast channels subscription free. Simply use your existing satellite dish connections or install a new dish from a local supplier. The new on screen TV guide makes it easy to find programmes you want to watch and those you might have missed. With internet connection via supplied Ethernet cable (or optional Wi-Fi dongle) catch up TV services from the BBC, ITV, Channel Four and Five are all available from the seamless roll back electronic programme guide (EPG). Now you can view catch up on the big screen without having to connect to any additional devices. With over 150 TV and Radio channels to choose from including subscription free HD channels and video on demand you will never be short of something to watch.
What is Freesat?


170+ channels with no monthly fees: Entertainment at your fingertips with lots of amazing channels, over 20 in crystal-clear HD.

On Demand: Watch content, including 4K where available, from some of the most popular free and paid On Demand players including BBC iPlayer, ITV Hub and Netflix – all accessible by a press of a single button on your remote

Plug & Play to your satellite dish: Works with your existing UK satellite dish so there is no need to replace your current one. Simply plug your cables into the back of the box and you're all set

Intuitive interface: With an easy to use menu system, the Freesat 4K TV Box gets you to where you want to go in a few simple steps. No guessing, no rabbit holes, no hassle

Simple to use TV guide

The EPG is one of the simplest to use guides using the colour coordinated remote control. The remote allows you to view live TV at a touch of a button, or by rolling backwards view catch up TV from all the key players, without leaving the same screen or connecting another device. You should never miss a second of your favorite shows. The now and next feature is a guide that lets you view the show you are watching but also see at a glance what's also available or what's coming up next.


Living busy lives means that sometimes you miss out on the best of TV, with Showcase you are shown a selection of not to be missed TV. Shows and films from across all channels are selected on a day to day basis from the finest programme producers and broadcasters.
No longer view catch up TV on your small screen laptop or PC with a huge range of content from BBC iPlayer, ITV Player 4oD, Demand 5 players plus additional content from YouTube (UK VPN required)

The Freesat service provides a huge choice in video on demand from the comfort of your living room and main TV.